Dulce Et Decorum Est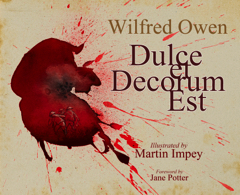 To mark the Armistice centenary of both Wilfred Owen's death and the Armistice, illustrator Martin Impey illustrates one of the greatest war poems ever written, Wilfred Owen's searing polemic, Dulce et Decorum Est.
Impey draws on Owen's words in a vivid and dramatic way. With a Foreword by Dr Jane Potter and endorsed by Owen's nephew, the late Peter Owen, the book includes Owen's four original drafts. Impey's powerful depiction serves to remind us, just as Owen intended, of the tragedy and futility of industrial warfare.
The book is set to be published on October 25th, 2018 and signed copies will be available for pre-order from October 1st, 2018.
Author: Wilfred Owen
Illustrator: Martin Impey
£24.99