Where The Poppies Now Grow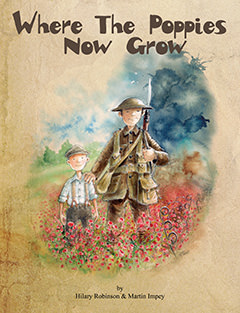 The carefree childhood for Ben and his best friend Ray becomes a distant memory when they join the army to serve their country.
But, in the midst of battle can their friendship survive?
Published to mark the centenary of the start of the First World War and in homage to the war poets Where The Poppies Now Grow, written in rhyme with powerful illustrations, is a touching tribute to honour all those who sacrificed so much for peace.
Author: Hilary Robinson
Illustrator: Martin Impey
Reviews
This lovely new book by Hilary Robinson and Martin Impey, simply yet beautifully says it all, with regards to the loss of thousands of young men during the first world war.

The survivors of this terrible conflict, including my grandfather Harry Patch, never forgot their fallen comrades and spoke of the unbroken bonds of friendship that were formed during the darkest of days.

Now these survivors are all gone, it is up to us to keep their memories alive and this book serves the purpose admirably. Because of this I feel there should be a copy in every school in the country, helping us all to remember the tremendous sacrifice of all those lost boys.

Wendy Patch
Grand daughter of Harry Patch 17th June 1898 - 25th July 2009 "The last fighting Tommy"
A book that reflects the lasting importance of both friendship and place and how they can help to heal the tragedy of war.

Julia Eccleshare
Guardian Children's Books Editor
Review for LoveReading4Kids
Shows ... why the bravery of young soldiers deserves to be remembered.

Five stars from Books for Keeps!
A fitting homage to some of the classic war poems by Siegfried Sassoon and Wilfred Owen.

Read It Daddy!
Book of the Week
Hilary Robinson and Martin Impey's book Where The Poppies Now Grow, about two childhood friends who go to war, joins this great collection and it is a very worthy addition indeed. As soon as it arrived I opened it and was captivated by it; the artwork is superb and the story simple, but incredibly moving. I cannot recommend it enough to anyone with young children who you want to have a first book about the Great War.

This centenary period will see many books come and go, and I sincerely hope this title will not be lost among them. Don't let it be – the book is fabulous. Buy it and your children will never look at poppies in the same way again.
The text is sympathetically developed through Martin Impey's powerful illustrations.
A very moving and emotional picture book focused on two boys' friendship and The Great War.

Hilary and Martin portray this difficult subject matter with touching, elegant rhyme and beautiful illustrations, creating a very personal and poignant story that can help introduce younger children to World War One.

This is a truly wonderful picture book that can help us honour and remember all the brave men who fought in the War.

Jessica Littlefair
Askews & Holts Library Services
Written to commemorate the centenary of the start of the First World War, Where The Poppies Now Grow is a touching tribute to honour all those who sacrificed so much in the name of peace. Aimed at children of primary school age for them to be able to, in their own way and suited to their needs, develop an appreciation and understanding of the First World War and the scale of suffering which was to shape the 20th century world.