Barry's Forgotten Musical Masterpieces (series 4)
In this fourth series of the critically acclaimed 'Forgotten Musical Masterpieces', Barry Humphries once again paints vibrant audio pictures of key events from the early 20th century. Each series of Barry's Forgotten Musical Masterpieces has received strong reviews from the likes of the Observer, Times, Mail, Radio Times, Telegraph, Sunday Times, New Statesman, Guardian).  There have also been many letters of praise from listeners to the Radio Times and the show has also been singled out by presenters of 'Pick of the Week' on BBC Radio 4.
Barry's Forgotten Musical Masterpieces was named a major Cultural Highlight of the Year by The Telegraph in 2016.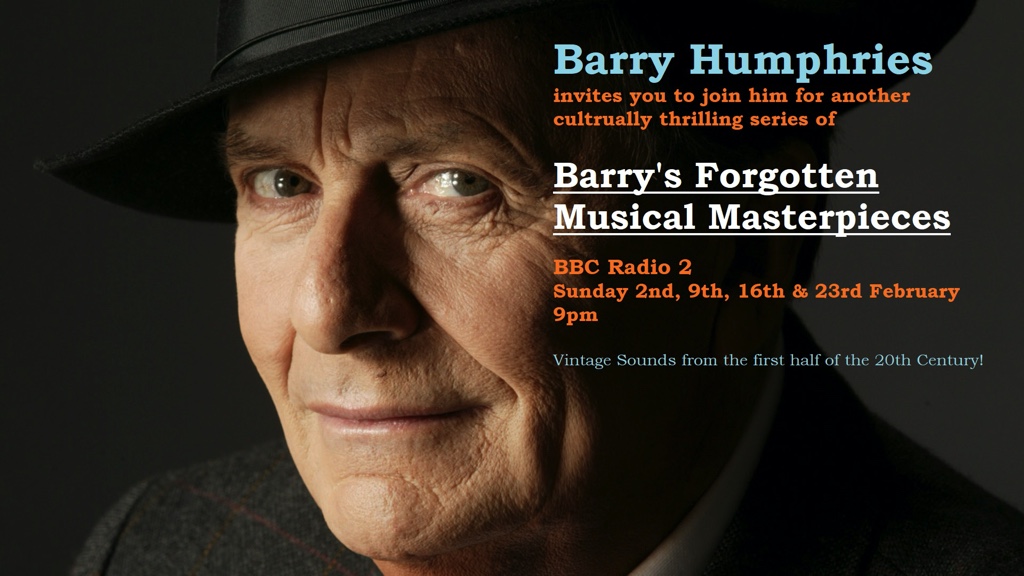 Series Overview:
Barry Humphries returns to BBC Radio 2 to present another culturally thrilling series of musical snapshots from the past. Barry's playlists of vintage music from the first half of the 20th Century, offer musical therapy for lost souls living in the in 21st.
'Barry's Forgotten Musical Masterpieces' is produced by Clair Wordsworth for Strauss House Productions.
Barry's Forgotten Musical Masterpieces has proved itself to be is a Jewel in Radio 2's Crown. As the presenter himself says, "this show alone is well worth your license fee! … Of all the things I do, this is my favourite. I love listening to music from the first half of the 20th century and sharing my favourites with Radio 2 listeners is an added bonus."
The four programmes in this new series contain important, sometimes hilarious and often thought-provoking, musical lessons from the past.  Through his unique commentary, Barry Humphries reveals that the lyrics of very old songs are just as relevant today.  This is not a series of stuffy, irrelevant old tunes, but instead a vibrant celebration of popular music from times which were just as challenging as our own.
Programme 1 – 02/02/2020 at 21:03 – BBC Radio 2
Barry Humphries sets his turntable time machine to a rate of 78 r.p.m. to take listeners back to the era of the Bright Young Things – the flamboyant, rebellious, decadent, irresponsible, progressive and totally promiscuous, 1920s!  "They didn't call them roaring for nothing!" he says.
The 1920s, also known as The Jazz Age because of the success of the F. Scott Fitzgerald novel, Tales of the Jazz Age, published in 1922.  It was also the era of the Bright Young Things, whose flamboyant behaviour inspired the cult of celebrity in Britain, as news of the group's exploits made front-page headlines almost daily!
For instance, Zita Jungman & her sister Theresa, just for a laugh, famously tried to spend the night in Madam Tussaud's Chamber of Horrors.  They removed the wax models of the Princes in the Tower and made themselves a bed.  They were eventually discovered by security staff during the night.
The Bright Young Things included the likes of Olivia Plunket Greene and her brothers, Elizabeth Ponsonby (the original It Girl who drank herself to death before she was 40), Stephen Tennant (was labelled as the brightest star of the Bright Young Things), Brenda Dean Paul (known as the society drug addict), Bryan Guinness (heir to the Guinness brewing fortune and whose first wife, Diana Mitford, left him for Oswald Moseley), Evelyn Waugh (novelist whose literary works were inspired by the Bohemian group's exploits), Cecil Beaton, Elsa Lanchester & Beverly Nichols, among others…
Of course, the 1920s brought many new things and attitudes, including the first birth control clinic in London, which opened in March 1921.  This had followed the publication, in 1918, of a book on the subject entitled, Married Love, written by MARIE STOPES.  It became a best seller and in its sixth printing within a fortnight. You should say that it was the 50 Shades of Grey of its day!
Prog. 1  Selected Music Playlist:
Futuristic Rhythm by Irving Mills & His Band
One Little One More by Tom Clare, recorded in 1924 – "a wonderful song about addiction" says Barry.
Another Day Wasted Away sung by Annette Hanshaw, recorded in 1927
Gentlemen Prefer Blondes sung by Joyce Barbour, recorded in 1926 and inspired by the publication of Anita Loose's literary smash-hit of the same name.
The Younger Generation – sung Al Bowlly (written by Noel Coward)
They Sang God Save the King – Florrie Forde
The Charleston – Savoy Hotel Orpheans
Take Me to the Land of Jazz – Billy Murray
Harlem Twist – Duke Ellington
I Wanna Go Places and Do Things – Jack Hylton
My Canary Has Circles Under His Eyes – Elsie Carlise
World Weary – Noel Coward
The Party's Over Now – Noel Coward
Don't Tell My Mother I'm Living in Sin sung by Elsa Lanchester
Barry says:
"One of my favourite Bright Young Things is Elsa Lanchester.  She set up, The Cave of Harmony nightclub, in London, frequented by Evelyn Waugh, in which plays and cabaret turns were performed.  Elsa Lanchester recorded a fabulous song, which for me, sums up the mood of the era better than any other record.  The title?  'Don't Tell My Mother I'm Living in Sin'".
And that song – Don't Tell My Mother I'm Living in Sin – had a kind of autobiographical quality for Elsa, as before Elsa was born, her mother was forced into an asylum by her own father and brothers, so upset were they at the prospect of their daughter and sister living in sin.  The case made front page news at the end of the 1800s.  Eventually, after a court case and support from a local M.P., Elsa's mother was declared sane and returned home to continue living in sin with her beloved, she never got married and gave birth to two children, one of whom was Elsa.
Programme 2 – 09/02/2020 at 2103 – BBC Radio 2
In this programme, Barry celebrates early pre-code cinema.  By pre-code he means the era before the introduction of the Motion Picture Production Code, which subsequently became, The Hays Code, after the man charged with writing it, William Harrison Hays.  It was a successful attempt by the American Film Industry, after a period of Hollywood scandals, to bring in a policy of self-regulation and thereby, hopefully, prevent wholesale Government Censorship.
Among the films mentioned is the 1917 film, Cleopatra.  It is one of the best examples of a pre-code film, but sadly it has now been completely lost.
Barry says:
"Just like the 1963 film of the same name, starring Elizabeth Taylor and Richard Burton, the Cleopatra of 1917, was one of the most elaborate and expensive films Hollywood had ever produced, up to that time.  With lavish sets and costumes, the film was a huge box office draw.  Yet, after the Hays Code was implemented, Cleopatra, was judged too obscene to be shown at all and, the last known prints of it were destroyed in a fire at Fox Studios, in 1937.  Tragically, only a few tantalizing segments now survive."
In this particular programme, Barry also recognises the achievements of Australian actors (including Annette Kellerman) during the early days of cinema.
Prog. 2 Selected Music Playlist:
I'm Going to Get Lit Up (When the Lights Go on in London) – Carroll Gibbons and the Savoy Hotel Orpheans.  The song was used during the Second World War to alert the French resistance that the Allied Invasion was imminent.
Du Bist Mein Greta Garbo – by Dajos Bella and band.  The title means You Are My Greta Garbo.  The band of Hungarian born violinist Dajos Bella was one of the most popular in Berlin during the 20s and early 30s.  It broke up suddenly at the end of 1933, when he emigrated to South America to escape the Nazis.  He lived the rest of his life in Buenos Aires and died, in 1978.
Cleopatra Had a Jazz Band – Sam Ash
Laugh Clown Laugh – Fred Warring
The World is Waiting for Sunshine – Isham Jones
California Here I Come – Al Jolson
Dapper Dan – Jack Buchanan and the Trix Sisters
How'd You Like to Spoon with Me – Angela Lansbury
Programme 3 – 16/02/2020 at 21:03 – BBC Radio 2
On the eve before his 86th birthday (his birthday is 17th February), Barry Humphries celebrates the music and artists from the year of his birth, 1934.
Barry says:
"I'm delighted to say that I've received notification that the country of my birth has decreed, that all references to the years prior to 1934 are to receive the suffix B.B. – meaning Before Barry."
1934 was also the year that:
Flash Gordon and Donald Duck first appeared.
In a referendum, Germans voted for Hitler to become the Fuhrer – a new, unique Government position, which combined both the roles of Reich Chancellor and Head of State, giving him control over German's affairs.  Barry says, "it's perhaps worth noting that, as history shows, referendums can be troublesome things."
SAMUEL GOLDWYN purchased the film rights to The Wonderful Wizard of Oz for Forty Thousand Dollars from the estate of L. Frank Baum.
Percy Shaw patented the cat's eye road safety device.
Agatha Christie's Murder on the Orient Express was first published.
The Flying Scotsman became the first steam locomotive to be officially recorded at 100 miles per hour.
P.L. Travers' first children's story Mary Poppins, James Hilton's Goodbye Mr Chips and P.G. Wodehouse's first full-length Jeeves story, were also published.
Prog. 3  Selected Music Playlist includes:
An earful of Music – Rudy Vallee
Easy Come Easy Go – Al Bowlly
What a Difference a Day Made – Denny Dennis
Ain't It Gorgeous – The Western Brothers
With my Eyes Wide Open I'm Dreaming – Greta Keller
I'm on a See-Saw – John Mills & Louise Brown, accompanied by the Saville Theatre Orchestra.  That track was recorded in London, on 19th December 1934, before John Mills was given a Knighthood in recognition of his serious dramatic roles in countless movies from the 1940s onwards.
I Only Have Eyes for You – Ben Selvin, from the musical Dames.
The Girl with the Ironing Board – Joan Blondell, from the musical Dames.
With My Little Stick of Blackpool Rock – George Formby…
Programme 4 – 23/02/2020 at 2103 – BBC Radio 2
In this programme, Barry Humphries celebrates the early recording stars – those who were among the first to exploit the wonders of the new technologies of both amplifying and recording sound.
Prog. 4  Selected Music Playlist includes:
Swanee – Al Jolson – Jolson made his name in the era before singers in theatres were amplified, hence his booming vocals on disc.
Learn to Croon – Bing Crosby
The Music Goes Around – BBC Dance Orchestra
Clap Yo' Hands – Whispering Jack Smith
Blame it on My Youth – Bob Crosby (brother of Bing)
I'm Wax Within Your Hands – Lucie Manheim
The Cats Duet – Hinge and Bracket
10 Cents a Dance – Hutch (Leslie Hutchinson) – this song was written to be sung by a woman.  Hutch's version puts an entirely different spin on the song's meaning and was very decadent for the era in which it was recorded.  He was known to take female and male lovers…
Truly beautiful radio. Praise be.  Barry Humphries is back with a new run of his music series - witty, nifty compilations of old songs on 78 rpm records that, decades later, still retain resonance.

Gillian Reynolds writing in Sunday Times, March 2019
The best Radio 2 series in this or any month for as long as I can remember.

Antonia Quirke, New Statesman.
Do such programmes fit the BBC's relentless attempts to bring in younger listeners? Definitely, I'd say.

Gillian Reynolds