Barry's Wireless Christmas (2018)
TX: 23rd December from 9-11pm on BBC Radio 2.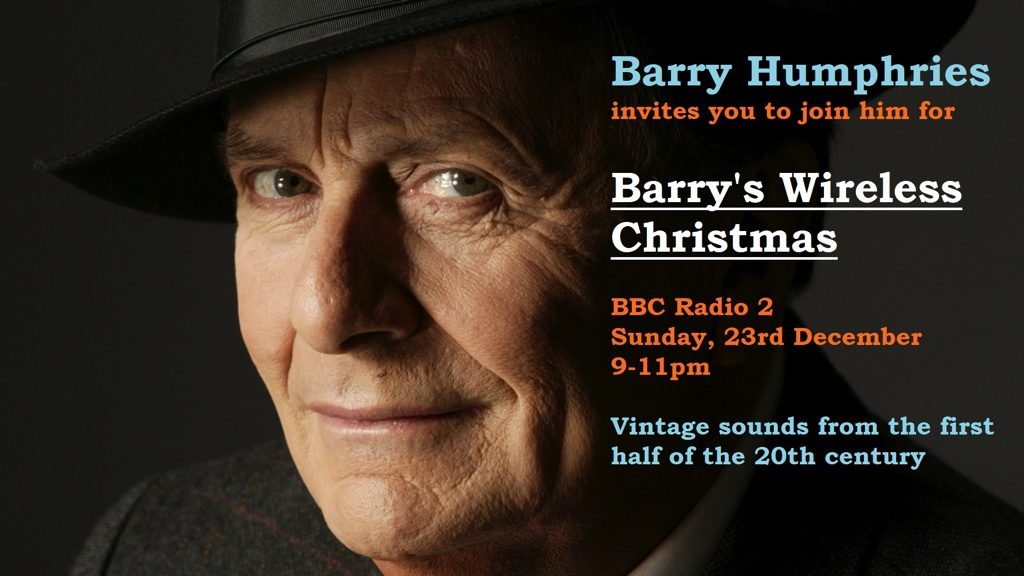 In this special 2-hour radio programme, Barry Humphries channels the Ghost of Christmas Past to transport listeners back to the age of the wireless.
Featured artists include:
Judy Garland, Vera Lynn, Arthur Tracy, Tessie O'Shea, Harry Helmsley, George Formby, Max Miller, Fred Astaire, Leroy Anderson, Julie London, Peggy Lee, Jimmy Durante, The Andrews Sisters, Bobby Comber, Billy Williams, Spike Milligan, Dame Edna Everage…
Plus, there is a rare appearance from Santa Claus himself!
In addition:
Barry plays the original, rarely-heard opening verse of Irving Berlin's 'White Christmas';
Tells how Rudolph the Red Nosed Reindeer was actually born in Chicago;
Barry reveals why he came to be sacked from his Christmas job in a top Melbourne department store – perhaps an early indication that his talents lay elsewhere;
How he never receives a Christmas card from Dame Edna, who he suspects in holidaying on the Island of Mustique;
And how Spike Milligan and Barry Humphries went on nocturnal tours around London in the 1960s.
Barry says:
"I'm looking forward to once again spinning my Turntable Time Machine to transport Radio 2 listeners back to the first half of the twentieth century with a selection of my favourite festive vintage recordings. As well as reliving childhood memories, I shall be paying tribute to the earliest recording starts and celebrating the birth of radio. It was a time before Video Games, Microwaves, Skinny Lattes, Digital Watches and even Darth Vader."
"For two-hours, I shall be doing my level best to spread joy and festive cheer, through the magic of the wireless – my very favourite twentieth century invention!"
"Listening to music from the first half of the twentieth century is what I most love to do and, sharing my favourites with the Radio 2 audience, especially at this time of year, is an added bonus."
"I think it's difficult today for most of us to imagine that there was a time when listening to music at home on some sort of mechanical contraption, or on the wireless, was cutting edge technology."
"I think I must have started early on the radio, well before the age of ten. Our radio was made of substance called bakelite. It was brown and it was rather chunky in a sort of art deco style. It was a very thirties-looking-thing, perched on top of a corner table in our sitting room at home in Melbourne and when it got heated up, with the valves inside the radio, it gave off a rather interesting smell. We huddled around it all the same to listen to favourite our radio programmes, serials, children's programmes, even sporting events, although they were of very little interest to me."
"The wireless is my favourite thing, really. I prefer it to television, even to the theatre, because it was where I first head men, whose job it was, to make people laugh."
"I first heard comedians on the wireless. Especially at the end of the Second World War, there were programmes intended to cheer us all up, so, there were whole programmes of British comedians. They were called comedians too and not stand ups. I rather resist the title stand up. Although I am a comedian of sorts, I think of myself as a sit-down comedian, even when I'm standing up."