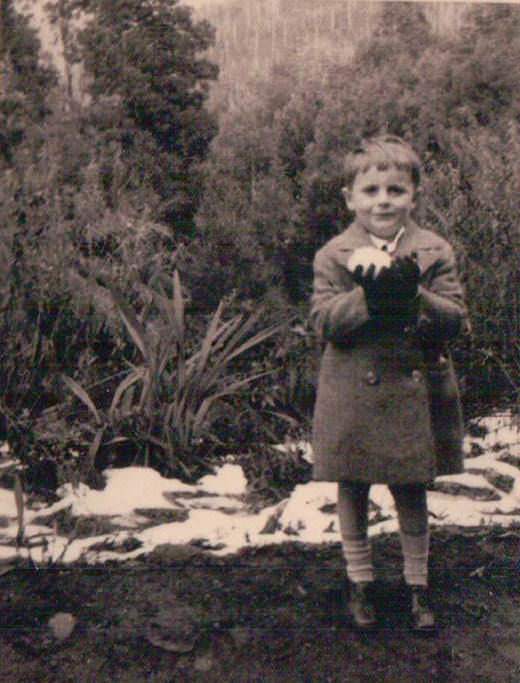 Barry Humphries as a little boy in Australia clutching a rare snowball
In this two-hour programme, Barry Humphries channels the Ghost of Christmas Past and uncovers a treasure-trove of rarities and long-forgotten festive recordings from bygone eras. Barry's passion and enthusiasm for performers of the past provides the spine of this programme. As well as re-living childhood memories, he pays tribute to the earliest recording stars and celebrates the birth of radio.
Barry is particularly excited to be playing 78 r.p.m. recordings by his compatriot Billy Williams. Australian performer Billy Williams came to London in 1899, sixty years before Barry made a similar trip to further his career in 1959. Billy appeared on the bill at the first Royal Command Performance in 1912 and achieved much critical acclaim. Sadly, his fame was not to last. He became ill late in 1914 and died early in 1915. Thankfully many of Billy's recordings survive allowing Barry to showcase a little of his talent on the radio today.
Barry also plays the rarely heard opening verse of Irving Berlin's 'White Christmas' (performed by Leslie Hutchinson aka 'Hutch') and there are festive tracks by Gracie Fields and George Formby in memory of Barry's Grandfather, who hailed from Lancashire and emigrated to Australia in the 1880s in the wake of the Gold Rush.
Other featured artists include: Arthur Tracy, Jack Hylton, BBC Dance Orchestra, Max Miller, The Comedian Harmonists, Dick Robertson, Edith Piaf, Ronnie Ronalde (renowned whistler and yodeller), Dorothy Collins and Leslie Sarony.